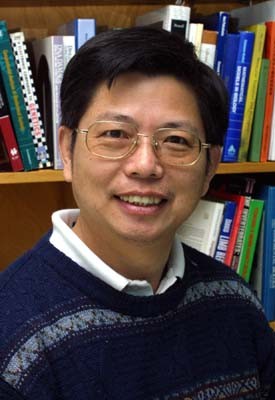 Dr. Xia is full professor in the Department of Biology of University of Ottawa.
Here is his offial departmental URL.
He is also affiliated with
CAREG: Center for Advanced Research in Environmental Genomics
OISB: Ottawa Institute of Systems Biology
Nanjing Institute of Geology and Paleontology
He was previously affiliated with
Jiang-Xi University (now Nanchang University)
University of Western Ontario (now Western University)
University of Helsinki
University of Toronto
University of Washington
University of Manitoba
Louisiana State University
University of Hong Kong
Turku University
He came to Canada in 1984 in search for a place where people of all nationalities and all ethnic backgrounds live in harmony. He joined University of Ottawa in 2002 where francophones and anglophones have worked in harmony. He is currently struggling to keep religion, communism and evolutionary biology in harmony in his mind.
Just in case you might be interested in knowing ......
"Xuhua Xia" is 夏旭华 in Chinese, where 夏 (Xia) is the surname and 旭华 is the given name. In Chinese schools, classmates will typically address you by your full name, e.g., 夏旭华, friends will call you by your given name, e.g., 旭华, and your loved ones, e.g., mother, wife, older siblings, will call you by the last character of of your given name, e.g., 华.
There are two explanations for this variation. The first invokes the closeness of personal relationships, and the second is simply identifiability. Among Chinese siblings, the last character of the name (e.g., 华) is typically unique, whereas the middle one (e.g., 旭) is typically shared. In rural villages where people have shared ancestry, the middle character is identical for all in the same generation (and it is taken from a book kept in a 祠堂, an ancestral hall or temple where the record of ancestral lineages is kept. During the Great Cultural Revolution, such records were considered as remnants of the evil feudal system and consequently were taken out and burned.)
A simple way to learn to pronouce 夏旭华 is simply to copy it into translate.google.com and click the speaker icon to hear it.